Hypoxia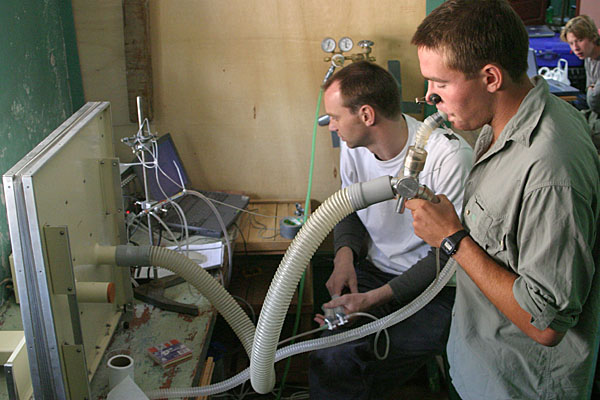 Our theme of hypoxia research follows on from my early career work in high altitude medicine. In 2000 I set up a charity, Apex (altitude physiology expeditions), and organised a series of research expeditions. You can read about the past expeditions, and future ones, at the Apex website. Today we focus on physiological modelling and functional genomics.

Our mathematical models of gas exchange are used for teaching all over the world, and were the foundation for our development of the S/F94 clincial endpoint.
Where to next?
A fantastic group of students are already planning Apex 7 which may well be our most scientifically important expedition ever.
Early autonomy for future academics
Probably the greatest impact of this work has been getting clinical trainees excited about research. Below is a list of our previous volunteers and expedition organisers who are in academic positions or have completed higher degrees:
Apex 1 (2001)

Roger Thompson PhD (BHF Intermediate Clinical Fellow, University of Sheffield)
Peter Hall PhD (Professor of Medical Oncology, University of Edinburgh)
Ian MacCormick PhD (University of Edinburgh)
David Dorward PhD (University of Edinburgh)
Roland Partridge PhD (University of Liverpool)
Matt Bates PhD (Newcastle University)
Andy Sutherland PhD (University of Edinburgh)
John Somner MD (Cambridge)
Kenny Baillie PhD (Professor of Experimental Medicine, University of Edinburgh)

Apex 2 (2003)

Nina Rzechorzek Phd (MRC Clinician Scientist, MRC Laboratory of Molecular Biology, Cambridge)
Matt Wilkes PhD (Chief Medical Officer)
Mark Toshner PhD (Senior Lecturer, University of Cambridge)
Olivia Swann PhD (University of Edinburgh)
Eve Smith (University of Liverpool)
Jamie Scriven PhD (Birmingham)
Oliver Mytton PhD (University of Cambridge)
Richard Oram PhD (University of Exeter)
Alex Phythian-Adams PhD (Investigator, GSK)
James McFarlane PhD (University of Newcastle)
Adam Marshall (PROTEUS programme, University of Edinburgh)
Kirsten Scott PhD (University of Cambridge and AstraZeneca, Cambridge)
Daniel Hammett PhD (University of Sheffield)

Apex Kilimanjaro (2009)

James Varley PhD (Imperial College)

Apex 4 (2015)

Sandy (Alexander) Jackson - NIHR Doctoral Fellow (University of Southampton)

Apex 5 (2017)

Jason Young (Academic FY, Oxford) (Apex 6 outcomes being gathered now)