COVID-19 response
Across the world, clinicians and scientists have volunteered to make their skills and resources available to the COVID-19 response. Here's what we've been doing to contribute to this global effort.
We have been preparing for a global pandemic for many years and worked with the WHO on influenza, MERS and Ebola. Since January 2020 we have focused all of our activities on coronavirus research. The whole lab have got behind this effort with extraordinary enthusiasm, redeploying to do whatever was needed. We're all contributing where we can:
Leading the ISARIC 4C consortium (together with co-leads Calum Semple and Peter Openshaw), which has provided a comprehensive description of the new disease, defining the importance of obesity, diabetes, and age; produced a widely-used prognostic tool (the 4C score); and provided essential weekly updates to government (SAGE).
Contributing to the steering committee, design and recruitment to the RECOVERY trial, which found the first effective treatment for Covid-19, dexamethasone and has convincingly excluded two others (hydroxycholoroquine and lopinavir/ritonavir)
Helping to establish the RECOVERY Respiratory Support trial to test different modes of ventilatory support
Leading global harmonisation in observational outbreak research (the ISARIC CCP)
Contributing to WHO Panels (Clinical Management; Research Prioritisation)
Providing advice on clinical management, trials and supportive care to UK Government (NERVTAG & MHRA)
Caring for patients with Covid-19 in intensive care
Our existing research was mostly paused during the pandemic but is restarting now. More information on our research programme in peacetime can be found below on this site.
Translational genomics in critical illness
---
We are trying to understand the mechanisms that make people desperately sick in sepsis, influenza and emerging infections, so that we can find ways to help them survive and recover. Since there is biological variation in the host response to injury, and some of this variation is genetic, we can use this genetic variation to find new treatments.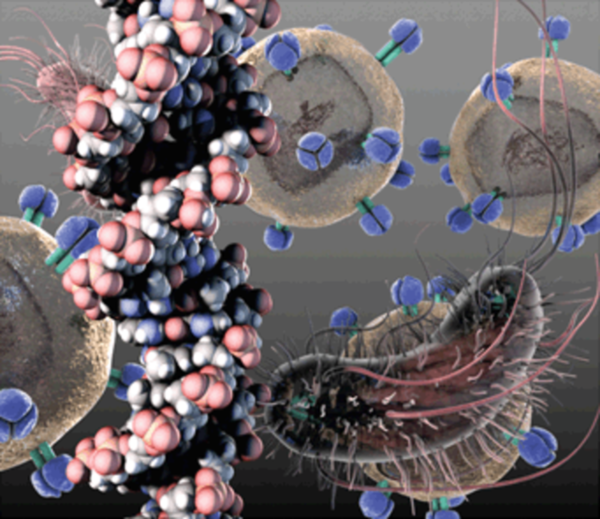 Combining signals by meta-analysis
We develop and use computational methods to combine data from different sources. The ultimate aim is to use these signals to lead us to biological processes that might be amenable to treatment. We influenza as a model for the broader host response to critical injury.
We develop and apply computational tools, and use in vitro and in vivo genome editing with CRISPR to generate and test hypotheses.
Read a summary of our approach in this perspective article:

Baillie JK. Translational genomics: targeting the host immune response to fight infection.
Science (New York, N.Y.): 2014;344: 807-8. doi:10.1126/science.1255074
Combining biological hypotheses with genetic signals: gene set hypothesis testing
---
The lack of specific hypotheses in traditional genome-wide association studies has a disadvantage - it greatly limits the statistical power, ensuring that only the strongest signals can be detected, even with very large numbers of subjects.
Gene set hypothesis testing (GSHT) enables investigators to take a biological hypothesis and test it using GWAS data. For example, in our paper, we tested the hypothesis that failure to downregulate inflammatory signals during macrophage maturation is a key mechanism in the pathogenesis of Crohn's disease. We defined search criteria to find inflammatory genes that are downregulated during macrophage differentiation, and then empirically tested the hypothesis that these genes are likely to be associated with Crohn's disease.
Baillie, J. K. et al. PLOS Genetics 13, e1006641 (Mar. 6, 2017).
Testing guilt-by-association: FANTOM5
---
In the FANTOM5 consortium we showed that, with a sufficiently rich expression dataset, it is possible to infer functional relationships between genes (and other transcribed elements in the genome, such as enhancers and lncRNAs) by grouping them according to similarities in expression. We proved this using known pathways, but the real value of this finding is that it enables us to discover relationships between genomic regions about which almost nothing is already known.
Forrest*, Kawaji*, Rehli*, Baillie*, et al. A promoter-level mammalian expression atlas. Nature: 2014;507: 462-70. PMC4529748
Stratified medicine
---
Throughout the history of medicine, progress has been made by recognizing patterns of disease, or syndromes. When new technologies are invented, they can reveal observable characteristics that have close relationships to disease trajectories, outcomes, and most importantly of all, response to therapy. Genomics and transcriptomics have these properties, but raise an additional challenge: the scale of the data is such that detecting relevant signals is a substantial computational and mathematical challenge.
Scicluna BP , Baillie JK. The Search for Efficacious New Therapies in Sepsis Needs to Embrace Heterogeneity. American Journal of Respiratory and Critical Care Medicine: 2018;doi:10.1164/rccm.201811-2148ED
Russell, C. D. & Baillie, J. K. Treatable traits and therapeutic targets: Goals for systems biology in infectious disease. Current Opinion in Systems Biology 2, 139–145 (Apr. 2017).
Key papers
Selected Publications
(*joint authorship)
(†corresponding)
(h-index: 73 | citations: 41038 | ORCID:0000-0001-5258-793X )
---
Funding
We are very grateful to recieve funding from the following sources: Wellcome Trust, BBSRC, Sepsis Research (FEAT), Intensive Care Society, MRC.
Contact
Email: web_enquiries@baillielab.net
---